The Raft Floating Restaurant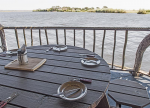 The only floating restaurant in Chobe and a must add to any Botswana itinerary or Chobe Day Trip! Situated opposite Sedudu Island, guests can enjoy Chobe game viewing at its best while savouring the flavours of a traditional "braai" (barbecue). The island, which proudly flies the Botswana Flag, has an abundance of bird life and is frequented by a host of larger herbivorous drawn to the endless supply of lush green grass throughout the year. Speaking of green…The Raft has little to no impact on the environment and was built with 90% re-cycled material. All restaurant items are unbreakable with every scrap of refuse being bagged and disposed of off-site. A 15 minute cruise from Kasane lulls you into the very heart of Africa.
Price range: R536 – R536
Description: We are a 64 seater Floating Restaurant moored opposite Sedudu island. We prepare African meals with the central theme being the tradition Braai (BBQ). The only way to access our spot is by boat. There is a free shuttle running from Kasane to the Raft operated by Flame of Africa.
Rates valid till Dec 2017
Send Message to listing owner
The Raft Floating Restaurant