Foodpreneurs
Mokgadi has worked in the food industry for more than 15 years. She started her culinary journey with Hotpots catering (1997-2000), which handled catering for M-net, SABC marketing conference and Rothmans Cup
She acquired further culinary training in New York City and upon her return to SA, Woolworth's snatched her up and she worked as a food works chef. Her duties included in-store food demonstrations; advising customers on menu planning, ingredients and food combinations; Event planning; Staff training in food preparation and styling. In 2006 she opened a restaurant in Rosebank, Lotsha Kitchen and Cocktails, which she managed with two partners. Lotsha hosted dinner parties for the South African, then first lady Zanele Mbeki and other South African personalities.
She has handled numerous food projects for clients like Dion Chang (Gloria launch), African Mosaique , MTN, YFM, Bonitas, National Video and Film Foundation, African Romance, South African Mining Development Association, Masana Technologies, Atlas Studios, Tom Pictures, Stoned Cherrie, Dr Anna Mokgokong, Jacob Zuma and  many others.
She has been featured on TV (Mojo-xmas party, True-life show, SABC 3 Talk) has developed recipes for magazines (Oprah Magazine SA, Food & home, House & Garden). She has participated in food festivals (V&A waterfront winter food fair, Cheese festival, Olive festival & Decorex JHB 2004), has worked with African food expert Dora Sithole on her recipe book "Cape to Cairo". In 2006-2008 she worked as a contributing food editor for Tribute magazine, where she honed her food writing skills. Mokgadi was one of FIVE Chefs chosen by the International Marketing Council to represent South African cuisine at the 2010 World Economic Forum in Davos, Switzerland.
Her entrepreneurial spirit saw her work with Metsweding Entrepreneural Development Agency, where she developed menu's and trained staff, for 'Vuvuzela Eat and sleep' a township bed and breakfast concept.
She is Creative Director and head chef for Lotsha Home foods, a food company she started with two other partners. The focus for the company is to develop food products based on African recipes. The first two products are already available in 5 shops in Gauteng. She is the current Food Editor for True Love Magazine and is a recent recipient of a Galliova award for excellence in food writing.
Enthused integrity, perseverance, compassion, dedication and an insatiable curiosity has been her aid in all undertakings. She is proudly South African and hopes to foster passionate pride in others.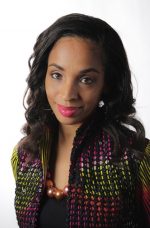 Ndidi Okonkwo Nwuneli: Co-founder of AACE Food Processing and Distribution Limited (Nigeria)
Ndidi Nwuneli is the co-founder of AACE Food Processing & Distribution, an indigenous agro-processing company, and a partner at Sahel Capital, an advisory and private equity firm focused on the agricultural landscape. She has 19 years of experience in international development and has led a range of initiatives in Ghana, Liberia, Mali, Nigeria, Rwanda and Senegal. Ndidi started her career as a management consultant with McKinsey & Company, working in their Chicago, New York and Johannesburg offices. She returned to Nigeria to serve as the pioneer executive director of the FATE Foundation, a leading entrepreneurship development organisation in 2000. She established LEAP Africa and NIA in 2002 and 2003 respectively. LEAP is a leading leadership development organisation that has worked in 26 states across Nigeria providing leadership training and coaching to over 30,000 entrepreneurs, youth, teachers and the public sector. LEAP has also published ten books on succession, ethics, governance and management. NIA empowers female university students in South Eastern Nigeria to achieve their highest potential. Ndidi holds an MBA from Harvard Business School and an undergraduate degree with honours in multinational and strategic management from the Wharton School of the University of Pennsylvania. Ndidi was recognised as a 'Young Global Leader' by the World Economic Forum and received a 'National Honour – Member of the Federal Republic' from the Nigerian government. In 2011, she was listed as one of the '20 Youngest Power African Women' by Forbes. In 2013, she was honoured by the Global Fund for Women during their 25th Anniversary Celebration in San Francisco. She serves on local and international boards including Nestle Nigeria, and USAID's advisory committee on voluntary foreign aid.
Affiong Williams – Founder, Reelfruit
Williams, who was one of Forbes Africa's 30 under 30 in 2015, founded her fruit processing company in Nigeria in 2012. The company sells dried fruit and nut snacks, but the impact is much larger. Williams has said that she founded the company because she saw a gap in the market and that "there is untapped opportunity in processing and value addition of raw materials." She has also said, "I also believe it's a very budding sector, there is a lot of opportunity as well as the job creation which I think is quite important to me as an entrepreneur to be able to play in an industry that would create a lot of jobs."
Clearly, Williams is passionate about developing the agribusiness sector of the Nigerian economy as well as the the rural farmers themselves.
The company's current product line includes dried mango, pineapple, cashew, banana and coconut snacks. As an ambitious individual, Williams is working on raising capital to open a new, larger factory to produce and package more product as well as expand the product line.
Williams has said, "I hope to be on the cover of FORBES AFRICA in five years' time." This company is going places. Look for ReelFruit to expand and to have an incredible impact on the agribusiness economy of Nigeria and beyond.