Lounge
47 Esselen Street, Sunnyside, Pretoria
Opening Hours
Mon 10 AM to 2 AM
Tue 10 AM to 2 AM
Wed 10 AM to 2 AM
Thu 10 AM to 2 AM
Fri 10 AM to 2 AM
Sat 10 AM to 2 AM
Sun 10 AM to 2 AM
Address
47 Esselen Street, Sunnyside, Pretoria
Highlights
No Takeaway
Full Bar Available
Outdoor Seating
Wifi
Nightlife
Live Entertainment
Serves Cocktails
Rua B 77 | Catembe, Maputo 3230, Mozambique
Nestled in picturesque surroundings of Catembe, Marisol Restaurant is a classy restaurant boasting wonderful views of Maputo.
Perched high above the beach and jetty, diners soak up the beauty and Portuguese Colonial past dining alfresco on the deck.
The menu blends international flavours with a twist of African fusion and Portuguese infusions that beacon fresh and delicious flavours with every mouthful.
Discover amazing food and beautiful surroundings dining at Marisol Restaurant in Catembe.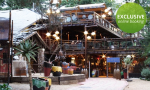 Moyo can be found at:
Moyo Blouberg :
http://www.moyo.co.za/moyo-blouberg/ 
Moyo Kirsten Bosch
http://www.moyo.co.za/moyo-kirstenbosch/
Moyo Melrose Arch
http://www.moyo.co.za/moyo-melrose-arch/
Moyo uShaka
http://www.moyo.co.za/moyo-ushaka/
Moyo Zoo Lake
http://www.moyo.co.za/moyo-zoo-lake/
Inspired by the traditions and values of our ancestors, moyo is a celebration of, and commitment to, the beauty of Africa, and the industry of her people. Our famously warm hospitality and modern African ambience make the moyo experience an unforgettable one.