Lounge
AFRICAN CULTURE, INTERNATIONAL CUISINE
Marco's African Place is a 220 seater Restaurant and bar in the Bo-kaap area of Cape Town. Since opening it has proved to be a popular venue for both local and international patrons,whose patronage follows the exquisite African Cuisine and African Music.
Join us for a taste of African Culture, Indigenous African and Cape Cuisine as well as Live Local Music.
LIVE ENTERTAINMENT
At Marco's African Place we always have the best live music that will entertain you the entire night. Enjoy the best local African music and dance, performed by only the best marimba bands around.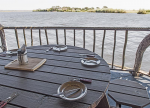 Chobe River | Sedudu Island, Kasane, Botswana
The only floating restaurant in Chobe and a must add to any Botswana itinerary or Chobe Day Trip! Situated opposite Sedudu Island, guests can enjoy Chobe game viewing at its best while savouring the flavours of a traditional "braai" (barbecue). The island, which proudly flies the Botswana Flag, has an abundance of bird life and is frequented by a host of larger herbivorous drawn to the endless supply of lush green grass throughout the year. Speaking of green…The Raft has little to no impact on the environment and was built with 90% re-cycled material. All restaurant items are unbreakable with every scrap of refuse being bagged and disposed of off-site. A 15 minute cruise from Kasane lulls you into the very heart of Africa.
Price range: R536 – R536
Description: We are a 64 seater Floating Restaurant moored opposite Sedudu island. We prepare African meals with the central theme being the tradition Braai (BBQ). The only way to access our spot is by boat. There is a free shuttle running from Kasane to the Raft operated by Flame of Africa.
Rates valid till Dec 2017
A world-famous restaurant, known not only for its extraordinary location, but also its fabulous food inspired by the natural resources, a twist of Zanzibar, and Italian love.
It takes just one look to understand that no pencil nor brush could draw such beauty – only Mother Nature could reach such heights and present one of the world's most unique and beautiful locations for a restaurant.
The challenge to create and present a menu, delivered with superb, relaxed and unobtrusive service to compliment the location, drives us. Add in our years of local and international hospitality experience, our love for cooking and it's no wonder we've become sought after.
One of Zanzibar's top attractions, our team combines local spices, flavors and foods from the sea and / or land, to present sometime familiar dishes with a twist, a new preparation, a local taste.
(Source: http://www.therockrestaurantzanzibar.com/ )